Services Cascade Plumbing Offers
Cascade Plumbing, located in Surfside Beach, offers many different plumbing services for the Myrtle Beach area: kitchens, bathrooms, laundry rooms. We can fix and replace any and all fixtures in these rooms. Do you need your water heater cleaned? Call us! We are experts at water heater repair, replacements, and maintenance services.
If you are located in Myrtle Beach, Surfside Beach, Garden City, Murrells Inlet, Litchfield, or Pawleys Island SC, we've got you covered.
Call Cascade Plumbing today for an estimate on all the services we offer.
Kitchen Plumbing Services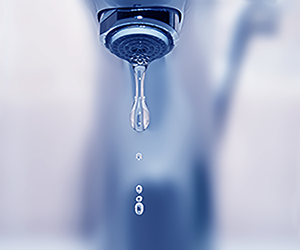 We provide Fixture Repair and Replacement for your entire kitchen.
Kitchens are used on a daily basis in most homes. Typically, these plumbing fixtures are the first to start leaking or breaking. Cascade Plumbing, in the Myrtle Beach area, can repair or replace old or broken fixtures in your kitchen. Sometimes it can be as simple as replacing a part that is covered under the manufactures warranty.
Other times you may have to replace the whole fixture. Myrtle Beach's Cascade Plumbing will tell you honestly if you need a replacement. We deal with all of the major plumbing brands, such as Delta, Kohler, Grohe, Moen, and more.
Fun Fact: We consider the fixtures in your kitchen to be some of the most valuable fixtures in your home. Think of it, when people come into your house, what is the first plumbing fixture that they see? The kitchen faucet.
Bathroom Plumbing Services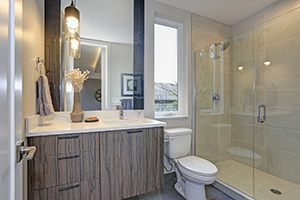 Bathrooms are a well used room in your house. If the plumbing fails, then your bathroom can become a big problem. Cascade Plumbing is a master at fixing plumbing and drain problems that occur in the bathroom.
Clogged drains are one of the most common plumbing problems to date. Bathroom sinks, showers and tubs most commonly have clogs due to hair and toothpaste build up, while toilets usually clog due to toilet paper or something that got flushed that was too big for the drainage pipe and is blocking it. Cascade Plumbing of Surfside Beach can clean your drains and restore them to full capacity.
We not only fix plumbing problems and repair fixtures, Cascade Plumbing can also install new sinks, tubs, showers and toilets. If you are thinking about replacing or remodeling your bathroom.
If you are having a plumbing problem with anything in your bathroom, including your toilet, sink, shower/tub, clogged drains, etc., feel free to call us. We use all the major brands such as American Standard, Kohler, Delta, Jacuzzi, and others.
Don't let your bathroom become a plumber's nightmare. Call Cascade Plumbing today. We service the Myrtle Beach area, to the north from Myrtle Beach, Murrells Inlet, Garden City, and south to Pawleys Island, SC.
Leaking pipes can sometimes occur when you have broken seals, corrosion, or clogged lines. It would be a simple fix for a plumber. But if you let it go too long, it will become worse with time.
Don't wait! Call Cascade Plumbing's master plumber now.
Water Heater Repair, Replacement & Installation
Is your water not heating? Cascade Plumbing are experts when it comes to Water Heater repair. Water heaters last for about 8 – 12 years. If yours is older than that, it may be time for a replacement. Newer water heaters are more energy efficient and will save you money. Get a quote from Cascade Plumbing for your new Water Heater Installation.
Regular maintenance of your home's water heater is recommended every year to flush the water and inspect all parts. This will help prevent buildup and corrosion and extend the life of your water heater. We also offer this as a maintenance program.
Remember: the fixtures that clean you, should be clean themselves.
You clean the outside - let a professional clean the inside!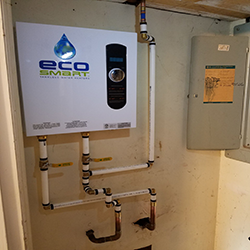 If you'd like to take your water heater to the next level, call Cascade Plumbing to install a new Tankless Water Heater. These units are energy savers and last longer than traditional water heaters.
These are perfect for smaller homes or families that don't use a lot of hot water on a daily basis. If you are ready for hot water on demand, call us now.
Cascade Plumbing company uses only the best tankless water heaters available today: Navien and Rinnai. Vic Cotoia is certified by Navien to install and repair their tankless water heaters.
Contact Cascade Plumbing in Surfside Beach, SC for any water heater problems that you may have.
Installations of New Fixtures & Remodels
If you are planning to remodel your kitchen or bathroom, call Cascade Plumbing of Surfside Beach, SC to help you with your budget for installations of new fixtures & remodels. . We work with you and your contractor to price, schedule, and install your new fixtures and/or water lines. We use all the name-brand fixtures such as Delta, Moen, Grohe, Kohler, American Standard, and more.
Cascade Plumbing can install new fixtures and plumbing lines when Myrtle Beach area homeowners are doing remodels on their homes. We will hook up dishwashers, garbage disposals, install toilets and shower fixtures. You name it, when it comes to plumbing, Cascade Plumbing does it all.
Maintenance Services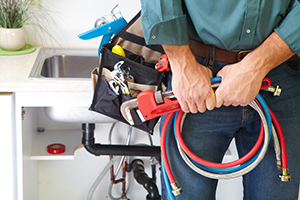 Cascade Plumbing offers yearly preventative maintenance services for your Myrtle Beach area home. The first includes an inspection of your fixtures, water lines and drains. If we spot a problem with a fixture we can usually just get the part, install it and it will be as good as new. In fact, most manufacturers offer a lifetime warranty on parts.
The second maintenance service plan we offer is a water heater inspection plan. We will inspect your water heater, perform flushing & cleaning to keep it in tip top shape.
Call Cascade Plumbing today to find out more information about Maintenance Services.
We work for you!
If we say we're going to call you back - we mean it!